THE WEB MARKETING ASSOCIATION IS PROUD TO PRESENT THIS
2009 INTERNET ADVERTISING COMPETITION AWARD FOR
OUTSTANDING ACHIEVEMENT IN INTERNET ADVERTISING
To:

Emakina - Pfizer Europe
For:

Quitters Arcade
Award:

Best Pharmaceuticals Websites

Click here to see entry creative
About the Entry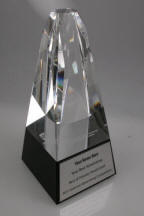 Quitters Arcade is a free set of retro arcade computer games you can embed on your blog or your Facebook profile to challenge your friends

The three games available are all adaptations of well-known arcade games: Blast'n'Quit, Bin 'Um and Escape From Smokey Planet. You have two possibilities to play and share them: visit www.QuittersArcade.com or add the games to your personal blog by a simple copy-paste of a HTML snippet.

Players can compete against each other, with a scoreboard for registered users. An 'interblog' scoreboard lists the leading blogs and URLs. The arcade game widgets are easy to embed and designed to give bloggers the opportunity for self-promotion.

In addition to your blog, you can also display Blast'n'Quit as a widget (application) on your Facebook profile and invite your friends to participate.

With this innovative prject, Pfizer aims to encourage players to seek help from a doctor, reject smoking and all its paraphernalia and most importantly, to triumph over addiction.

Award Credits
Contributors:
| | |
| --- | --- |
| European Brand Manager - Pfizer Europe: | Chris Venn |
| Creative Director - Emakina: | Christian Verschaeren |
| Strategic Consultants - Emakina: | Michel Demoor, Johannes Schnack |
| Account Manager - Emakina: | Sharon Denness |
| Project Manager - Emakina: | Marie-Caroline Mendez |
| PR Manager - Emakina: | Olivier De Doncker |
| Web/Flash Designers - Emakina: | Benjamin Ropson, Vincent Wautier, Adrien Noterdaem, François Richir, Xavier Portela |
| Video Editing & Storyboarding - Emakina: | Benjamin Ropson, Giuseppe Di Francisca |
| Games Development - Emakina: | Christophe Deaconescu, François Richir, Vincent Battaglia |
| Localisation guide designer - Emakina: | Arnaud Fontaine |
Emakina
Location: Belgium