THE WEB MARKETING ASSOCIATION IS PROUD TO PRESENT THIS
2009 INTERNET ADVERTISING COMPETITION AWARD FOR
OUTSTANDING ACHIEVEMENT IN INTERNET ADVERTISING
To:

BGT Partners & Sony Cierge Team
For:

Sony Cierge Email Marketing Campaign
Award:

Best Email Email Message Campaign

Click here to see entry creative
About the Entry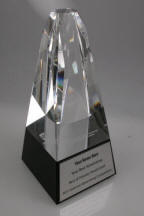 User name: awards Password: BGTPartners

"Cierge is Sony's by-invitation-only exclusive VIP program that caters to Sony's high-net worth customers and provides the highest level of service and support. 
The email newsletter's content is prepared exclusively for this captive audience in order to increase the relevance and the success of each campaign. Product information is paired with relevant offers and exclusive insider information to make the email content unique to the program. The visual and narrative designs are developed to connect with the relevant stakeholders in order to deliver a persuasive message."
Award Credits
Contributors:
BGT Partners
Location: United States