THE WEB MARKETING ASSOCIATION IS PROUD TO PRESENT THIS
2011 INTERNET ADVERTISING COMPETITION AWARD FOR
OUTSTANDING ACHIEVEMENT IN INTERNET ADVERTISING
To:

Bailey Lauerman
For:

"You'll Find Us" Rich Media Campaign
Award:

Best B2b Rich Media Online Campaign

Click here to see entry creative
About the Entry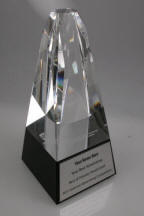 With the economy on a downturn and current customer shipping needs declining, Union Pacific, North America's largest railroad, needed to generate new sales leads and fast. In doing so, the company's leadership wanted to position Union Pacific's value beyond price, establishing UP's service as premium.

The customers in Union Pacific's sights were those currently shipping with trucking companies or third-party logistics firms. Union Pacific needed to re-position the company as not simply a railroad, but a true end-to-end provider with the logistics expertise and experience prospects' shipping needs demand. Without access to tracks, many in the industry believed UP was not a viable shipping option; they were unaware of UP's full-service capabilities. An online campaign was developed together with television, and print to set the record straight.
Research indicated a company's logistics and shipping decision-making process has two players – Logistics Managers and C-suite Executives. The logistics managers are responsible for recommending or selecting shipping partners. These folks are responsible for the true day-to-day management of their company's logistics. The C-Suite Executives, while farther removed from the day-to-day process, approves or authorizes the shipping decision. We needed to connect with both.
In Union Pacific's first true advertising campaign in almost a decade, the objective was clear—generate sales and bring in enough new customers that the campaign pays for itself. Once onboard, it would be up to the Sales and Marketing team internally to grow the accounts further.
Award Credits
Contributors:
| | |
| --- | --- |
| Interactive Desinger/Developer: | Dan Cooper |
| Creative Director: | Marty Amsler |
| Creative Director: | Carter Weitz |
| Copywriter: | John Vogel |
| Designer: | Brandon Oltman |
| Animator: | The Mill |
| Account Supervisor: | Emilie Wells |
| Sr. Project Manager: | Mary Golwitzer |
| Digital Project Manager: | Jackie Normington |
| Director of Digital Solutions : | Mike Murray |
Bailey Lauerman
Location: United States of America
About the Agency
We tell a good story. Because people think in stories. Our brains are wired that way. So it shouldn't be surprising that you can't have a brand without a darn good story. It gives a brand its meaning. Involves people in it. Makes people care about it. A good story, well told, can change a brand's destiny. Rewrite its future. And what's good for a brand is good for business. No company ever went broke capturing the imagination of its customers. So it's a lucky thing we have a knack for simple, honest storytelling. Maybe it's the Nebraska in us. Certainly, it's why Bailey Lauerman is one of the most awarded creative agencies in the country. Why we've attracted a team of the best creative and strategic talent. And why we have the privilege of supporting some of America's leading brands. Yes, business is always good when you have a great story to tell.