THE WEB MARKETING ASSOCIATION IS PROUD TO PRESENT THIS
2011 INTERNET ADVERTISING COMPETITION AWARD FOR
OUTSTANDING ACHIEVEMENT IN INTERNET ADVERTISING
To:

Miles Media
For:

Louisiana Travel eNewsletter Program
Award:

Best Travel Online Newsletter Campaign

Click here to see entry creative
About the Entry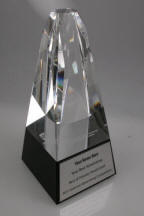 Louisiana's monthly e-newsletters aim to catch readers' eyes and "afflict" them with an itch to visit the state. The permission-based, highly targeted email newsletter program redesigned in 2010, plants the idea of Louisiana travel by informing recipients of the fun and fascinating times ahead.

Even when the newsletter's overall message is general in nature (e.g., "Escape winter"), it is likely to emphasize upcoming events, festivals and other activities that will enhance visitors' escapes, rather than merely pointing them toward warm, relaxing locations.

In line with the strategy behind LouisianaTravel.com itself, the e-newsletter content centers around the primary tourism asset categories of food, music, outdoors, culture/history, festivals and gaming.

The selection of each month's geographically diverse content is guided largely by such events, with emphasis on major festivals that present substantial live entertainment and tend to draw large crowds.

Each item in every newsletter links back to a story on LouisianaTravel.com that contains more details about the teased events, including links to related commercial listings in LouisianaTravel's database (nearby attractions, restaurants, B&Bs, etc.); direct links to the websites of commercial establishments, event organizers; and links to other stories on LouisianaTravel.com that offer more details on similar or complimentary events around the state.

Since the program began in 2010, 4.4 million emails have been delivered with a 98.36% delivery success. As a signal of intent to travel, the newsletter signup rose 159% from 2009 to 2010. With 136,870 subscribers, we've seen a 15.22% average open rate and a 16.73% average click-through rate.

Award Credits
Contributors:
| | |
| --- | --- |
| Publisher: | Jay Salyers |
| Account Executive: | Amy Kern |
| Editor: | Kathy Finn |
| Art Director: | Jennifer Duncan |
| Interactive Designer: | Tom Bartsch |
| ePublications Developer: | Sue Harper |
| ePublications Developer: | Mitch Veix |
| | |
| | |
| | |
Miles Media
Location: USA